Budget Hotels Near Ahmedabad Airport
Ahmedabad, one of the largest cities in Gujarat, is famous for its tremendous development and prosperous architectural heritage. Ahmedabad has now become a central hub for industry and tourism.  As the main entrance of the city is Sardar Vallabhbhai Patel International Airport, it is necessary for travelers to book one of the best hotels in Ahmedabad near Airport in according to get a comfortable stay at reasonable prices.
If you are searching for budget hotels near Ahmedabad airport then Hotel Elysian Residency is the perfect choice for you, as it provides a comfortable stay at an affordable price.
The hotel possesses 36 well-furnished and spacious rooms with required amenities that satisfy the needs of both leisure and business travelers. The rooms are well equipped with modern facilities and luxuries such as climate control air-conditioning, stylish bathrooms, 32-inch smart TV, and rooms with high-speed internet, a business center desk, and many more.
Hotel Elysian Shahibaug is just 5 km from the airport, one of the best hotels in Shahibaug Ahmedabad. The best hotel in Shahibaug offers a comfortable and hassle-free stay to guests. The best part about the Hotel Elysian Residency is that travelers can reach the airport without any stress and on time, as the hotel is close to the airport.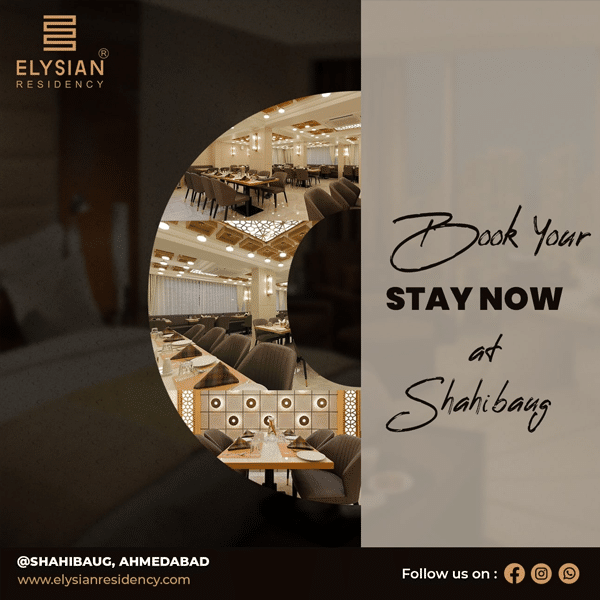 Hotel Elysian Residency also offers an in-house restaurant, Revel, which serves various multi-cuisine delicacies with a modern twist. The restaurant owns a pleasing ambiance and adds a personal touch to every dish so that visitors have a memorable dining experience.
In addition to that, the Hotel Elysian Residency comprises a conference hall, boardroom, and banquet, having room for more than 70 guests, which makes our hotel the perfect option for business meetings, events, conferences, and social gatherings.
The hotel is close to several well-known tourist attractions, like Sabarmati Ashram, Sidi Saiyyed Mosque, Hutheesing Jain Temple, and many other famous places. This reason makes Hotel Elysian Residency an ideal choice for leisure travelers.
Thus, without a doubt, Hotel Elysian Residency is a budget-friendly hotel near Ahmedabad Airport that offers a convenient stay at affordable charges without compromising on quality. Because of its centric location, modern facilities and outstanding services provided, Elysian Residency is the perfect pick for visitors who desire a hassle-free and comfortable stay in Ahmedabad.