Best Hotel in Ahmedabad near the Airport
Are you looking for the stay at best hotel in Ahmedabad near the airport? If yes, well you are at the right place. Hotel Elysian residency located just 5 minutes away from Sardar Vallabhbhai Patel International Airport is the ideal choice for travelers looking for a comfortable and convenient stay. Hotel Elysian residency offers a wide range of amenities, including free Wi-Fi, 24-hour front desk service, a fitness center, and a restaurant.
The guest rooms in the hotel are quite spacious and well-appointed, including modern decor and comfortable furnishings. Every room is well-equipped with a flat-screen TV, mini-fridge, and a private bathroom. You can also enjoy the hotel's on-site restaurant "Revel Restaurant", which serves a variety of delicious Indian and international dishes.
There are a list of reasons why you should book a stay at Hotel Elysian Residency if you are looking for a hotel in Ahmedabad near the airport. Some of them are:
Hotel Elysian residency's location is also ideal for business travelers, as it is close to many of Ahmedabad's major corporate hubs. As the hotel offers a fully-equipped conference room with high-speed internet access, printers and fax machines. Conference room can accommodate up to 50 people, perfect for meetings, conferences and events.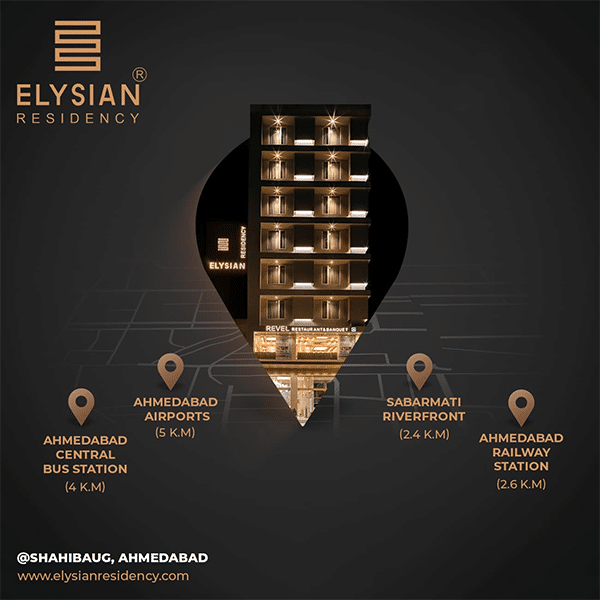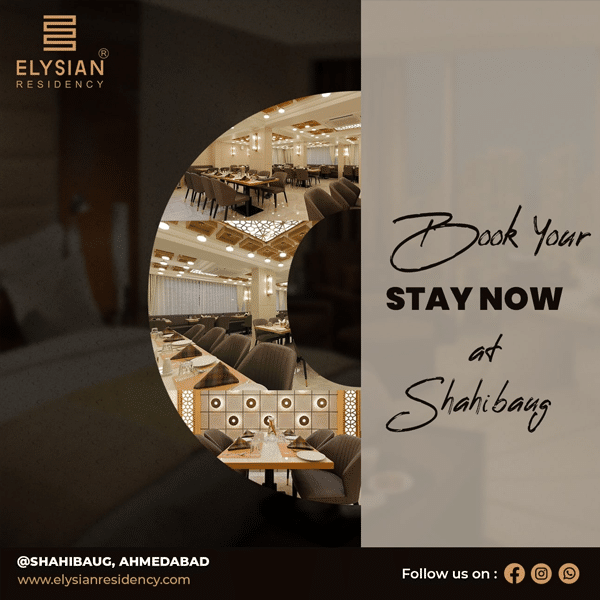 Tourist attraction Near Hotel
The hotel is also near to very popular tourist attractions in the city like Gandhi Ashram, ISKCON Temple and Kankaria Lake.
The hotel also offers a range of facilities to make your stay even more comfortable, including room service, laundry service, and car rental. With its convenient location and top-notch facilities, Hotel Elysian Residency is the perfect choice for your next visit to Ahmedabad.
The hotel's 24-hour front desk service is always available to assist you with any needs or questions you may have. Whether you need help with directions, recommendations for local restaurants or need to arrange transportation, the front desk staff is happy to help.
In summary, Hotel Elysian Residency is the perfect choice for travelers looking for a comfortable and convenient hotel and it is near the airport in Ahmedabad. The well trained staff of Hotel Elysian Residency makes sure by their range of facilities and services, to make your stay in the city enjoyable and stress-free. Whether you are visiting Ahmedabad for business or leisure, Hotel Elysian Residency has everything you need to make your stay a success.